OurCrowd is arguably the leading investment crowdfunding platform in the world. Based in Israel but listing offerings from companies around the world, OurCrowd has seen approximately $1.4 billion in committed funding since inception. Of the 212 portfolio companies, 138 are based in Israel.
Since its founding in 2013, OurCrowd a good number of portfolio companies have either gone public, like Beyond Meat and Uber, or been acquired by names like Nike, Oracle, and Intel. To date, OurCrowd reports 36 exits.
This week, OurCrowd kicks off its annual Global Summit in Jerusalem. It has been reported that over 28,000 people have registered to attend. While not all registered individuals may be at the event, OurCrowd clearly operates the largest conference focusing on online capital formation and investment opportunity.
OurCrowd CEO Jon Medved recently told Crowdfund Insider:
"OurCrowd is proud of its diverse and exceptional portfolio of technology startups. We include companies from each sector ranging from cybersecurity, Agtech to healthcare to AI. We also include companies at all stages of development ranging from earliest pre seed and incubation, all the way to pre IPO. The fact that we have democratized access to these kinds of quality companies to our 40,000 plus investors around the world is just the beginning, as we begin to add value to these companies by mobilizing the connections, talent and passions of the crowd."
Investing in early-stage firms is not for the impatient. It can take years, or decades, for a company to mature and present a possible exit opportunity.
In a release timed for the Summit, OurCrowd reported that it gained over $500 million in new funding commitments during 2019. The platform invested in 38 new portfolio companies and had 8 exits during the year.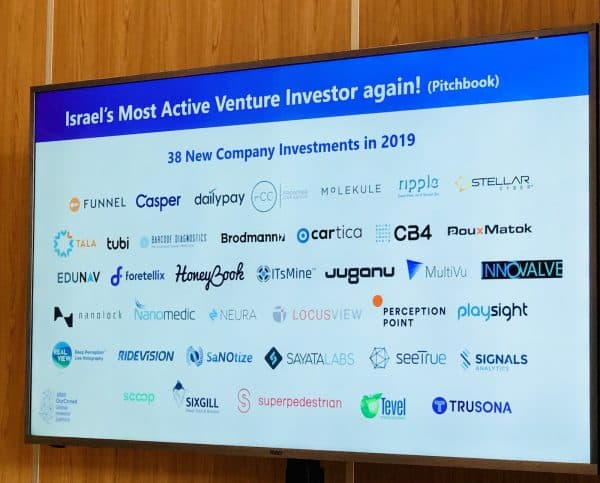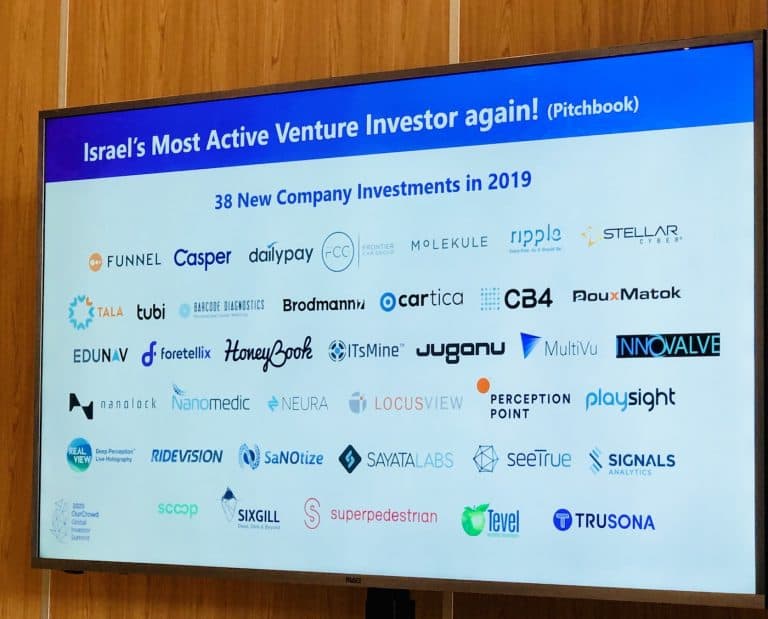 The 2020 OurCrowd Global Investor Summit caps a decade of remarkable and exponential growth in the Israeli tech ecosystem. From 2010-2019, annual investments in Israeli startups grew over 400% and annual exit value grew 900%. As public markets have dimmed, private securities have boomed globally.
While OurCrowd began its business by pairing individual investors to promising young ventures, today more institutional money is coming in and OurCrowd offers a growing list of targeted funds (20) to provide immediate diversification for investors interested in immediate risk mitigation. Of note, is the fact that OurCrowd may take advantage of a pending change where non-accredited investors may gain access to their investment opportunities. The US Securities and Exchange Commission is deliberating on a rule change where retail money may invest in private securities funds. OurCrowd inked a partnership with Stifel during 2019, this may end up becoming a key pipeline to further democratize access to investment opportunity for smaller investors.
While the past ten years have been great for early-stage investing, and even more dramatically – big tech development in Israel, Medved is planning for the long term now. He says that the current bull market can last ten more years or ten more days. Additionally, OurCrowd has recently made a commitment to focus more money on seed/early-stage ventures.
"I hope to get a million investors by the end of the decade," – Jon Medved
Medved said they want to celebrate the incredible achievements of the Israeli tech ecosystem over the past 10 years but simultaneously look forward to what's needed to get where we want to be 10 years from now.
"In order to continue this exponential growth, we will need to redouble our efforts in the seed and early-stage investment arena, as well as strengthen and leverage our growing network of global investors. Together we can make this next decade a truly Roaring Twenties."
OurCrowd's milestones since inception 2013-2020:
Committed funding:
2013: $24 million               2020: $1.4 billion
Registered Investors:
2013: 2,642                       2020: 42,154
Portfolio companies:
2014: 25                            2020: 200
Exits:
By 2013: 0                       

 

By 2020: 36
Failures:
OurCrowd Portfolio Companies
AgTech
CropX

: App-operated sensor system that optimizes crop irrigation and fertilization

Taranis

: Sensor-and-software suite that uses big data to help farmers optimize crop management using problem detection and prediction

Tevel

: Airborne autonomous harvesting, driven by data collection and analysis.

Consumer Physics

: Pocket-sized molecular sensor that identifies the chemical makeup of anything in the physical world
Cannabis
Syqe Medical

: Easy-to-use metered-dose inhaler for medical cannabis that delivers optimum treatment in a precise, reliable, and safe way

BOL Pharma

:

 

A leading provider of medical cannabis working across the industry's value chain, from growth to finished product, adhering to strict regulatory standards, including Global GAP, GMP, FDA, and EMA
Consumer Hardware
Clipfort

: Gun safety solution using a biometric fingerprint reader on the gun's magazine

Corephotonics

: Developing a mobile camera that perfects mobile photography, known for its dual camera high-quality imaging technology [SOLD]

Eyeway Vision

:

 

Developing the next generation of AR that uses laser-based scanning to "write" images directly onto the user's retina, emulating the way humans naturally see the world
MUV Interactive

: Developer of ring-like device that allows users to interact with media without being bound by the constraints of a single, traditional screen [SOLD]

SonicEnergy

 

(

uBeam)

:

 

Wireless, contactless charging through ultrasound
Consumer Software
Casper

: comfortable mattress sold directly to consumers, eliminating commission driven, inflated prices.

DailyPay

: a financial solution enabling employees and contractors to control when they get paid, empowering them to meet financial goals and pay bills on time.

NextPeer

: Allows mobile game developers to easily integrate a top-class multiplayer feature into the gaming experience [SOLD]

Parko

: Cuts time spent looking for parking by automatically matching departing and arriving cars [SOLD]

Stringify

: IoT automation service that allows people to connect all their devices and digital services in one place [SOLD]

Tala

: Accessible consumer credit product, instantly underwriting and disbursing loans to people who have never had a formal credit history, all through a smartphone app.

 
Cybersecurity
Drones
Airobotics

: A pilotless drone solution with a multipurpose, on-demand, industrial-grade platform

Edgybees

: AR software for drones and other high-speed moving platforms, with applications in first response, media, gaming, and more
Energy
enVerid

: Revolutionary air treatment technology that increases energy savings and indoor air quality while reducing greenhouse gases

Juganu

:

 

Smart LED lighting solution with an embedded network chip for efficient and consistent indoor or outdoor lighting systems

LocusView

:

 

Construction-tech platform allowing gas and energy grid utilities to automatically collect, manage, and validate critical data required for field constructed assets
Enterprise Hardware
Enterprise Software
Fintech and Insurtech
FoodTech
Beyond Meat

:

 

Develops and manufactures a plant-based meat substitute [NASDAQ: BYND]
DouxMatok

: A proprietary technology for targeted flavor delivery designed to enhance the perception of flavors, enabling a 40% reduction in sugar in a variety of food applications, without compromising on taste.

Ripple

: Develops and manufactures a great-tasting, nutritional alternative to dairy.
Healthcare
Alpha Tau

:

 

Treating solid malignant tumors using targeted alpha radiation, while minimizing damage to healthy surrounding tissue
Barcode Diagnostics

: Patent-protected technology designed to assist oncologists in identifying the most effective chemotherapy cocktail before the patients' first treatment

BrainQ

: Non-invasive technology to treat a range of neurological pathologies that uses AI to detect neural patterns in patients and tailors electromagnetic fields to target patients' impaired neural networks, repair neural connectivity, and enhance natural rehabilitation

DreaMed Diabetes

: Developers of a next-generation machine-learning solution for diabetes management, facilitating daily management and patient-doctor communication

ElMindA

: Mapping tool for visualizing neural activity to optimize management of brain disorders and injuries

Global Kinetics Corporation

: Wearable sensor and advanced analytics system for tracking movement disorder symptoms, such as Parkinson's Disease, to optimize treatment

HIL Medical

: Compacts the proton-therapy system hardware to make this high-performance cancer treatment affordable and space-efficient

Insightec

: MR-guided focused ultrasound technology for non-invasive surgery on patients with essential tremors, tremor-dominant Parkinson's disease, and neuropathic pain

Innovalve: a Transcatheter Mitral Valve Replacement solution

MedAware

: Big data analytics and machine learning that enables healthcare providers and pharmacy chains to identify and eliminate prescription errors

MeMed

: Enabling early prescription and preventing misuse of antibiotics with personalized diagnostics by decoding the human immune system

Memic

: Laparoscopic surgical robotic arms controlled by the surgeon that allow them to operate on previously inoperable areas due to their size and flexibility

MST

: Robotic vision system with AI-enabled environment recognition for laparoscopic surgery [SOLD]

Nanomedic

: A medical device that produces a flexible, washable, transient skin layer, minimizing the pain and burden of wound healing by eliminating the need to remove and replace bandages.

Ossio

: Promising improved clinical outcomes by using osteoconductive implant technology without changing orthopedic surgical technique

PulmOne

: Portable desktop lung function testing

RealView Imaging

: Developed technology for live holography that provides a natural user experience, creating accurate, interactive, 3D holograms without the need any screen or eyewear

SaNOtize

:

 

A Nitric Oxide Releasing Solution platform technology to treat and prevent microbial infections, including drug resistant microbes such as upper respiratory and topical dermal infections.

Scopio

: Revolutionizing the fields of pathology and microscopy-based diagnostics by introducing the world's first affordable, clinical-grade digital microscope

Sight Diagnostics

: Low-cost blood diagnostics through computer vision that is fast, simple-to-use, and accurate

Surgical Theater

: Patient-specific 360-degree VR platform for planning, discussing, and rehearsing complex surgical procedures

Sweetch

: Mobile health app with paired wearable device that accurately predicts personal diabetes risk and drives long-term behavioral change for prevention

Trendlines

: Incubator that establishes, invests in, and develops medtech and agtech early-stage companies [SGX: 42T]

UPnRIDE

: All-terrain electric wheelchair that enables stable standing and mobility for quadriplegics and handicapped individuals

Zebra Medical Vision

: Medical imaging insights platform with algorithm-based assistance for radiologists in detecting often overlooked disease indicators by analyzing millions of imaging records and providing an automated, accurate, and timely medical image diagnosis

Medisafe

: An easy-to-use and personalized medication management platform that helps people better manage their medications and offers healthcare companies meaningful insights into their daily behavior.

Syncath

: A platform to manage and treat patients with moderate to severe brain injury. The Syncath System is one device that provides patient specific management and monitoring of blood flow in the brain, and an assist device to restore blood flow
Marketplace/E-commerce
Abe's Market

:

 

Online marketplace for natural products [SOLD]
Agentology (formerly My Agent Finder)

: Real-estate platform that keeps leads fresh 24/7 and connects realtors with motivated prospective buyers and sellers

Boatbound

: Peer-to-peer boat rental marketplace [SOLD]

Freightos

: Online marketplace that facilitates the logistical process of international shipping by providing instant quotes and rate management for importers, exporters, forwarders, and shippers

Klook

:

 

Asia's largest in-destination travel services booking platform

MissBeez

: Mobile app that brings beauty specialists, on-demand, to the door of the busy modern woman [SOLD]

Modli

: ModLi is the largest online marketplace for modest fashion, featuring thousands of modest fashion items by hundreds of modest fashion boutiques.

Splacer

: Online marketplace for people to rent and list unique event spaces

The Bouqs

: Direct-to-consumer e-commerce platform for purchasing fresh flowers

Wayup

: Leading digital platform for employers to reach, recruit, and engage early career candidates
Mobility
Semiconductors and Optics
Celeno

: Next-gen Wi-Fi for the era of high-speed connectivity through proprietary chipsets, edge software, and cloud technology

Unispectral

: Developing miniature, low-cost hyperspectral imaging MEMS sensors for smartphone camera applications that combine image capture, computer vision, and spectroscopy to create "intelligent" images

VocalZoom

: a unique optical sensor technology for accurate measurement of distance, speed, and vibration for predictive maintenance at scale with very low integration costs