OurCrowd Ltd., a global venture investment platform and Israel's most active venture investor, opened on Thursday its annual Global Investor Summit, the largest tech event in the Middle East, by announcing that its annual investor commitments, number of investors, and Summit registrations have all multiplied more than twentyfold (2,000%) since it started its operations in 2013. OurCrowd's committed funding grew from $24 million in 2013 to $1.4 billion in 2020, according to company statements.
OurCrowd announced that it gained over $500 million in new funding commitments in 2019, invested in 38 new portfolio companies, and had eight exits during the year, including the two most prominent initial public offerings of 2019: Beyond Meat and Uber. Combined, OurCrowd portfolio companies have now achieved 36 exits.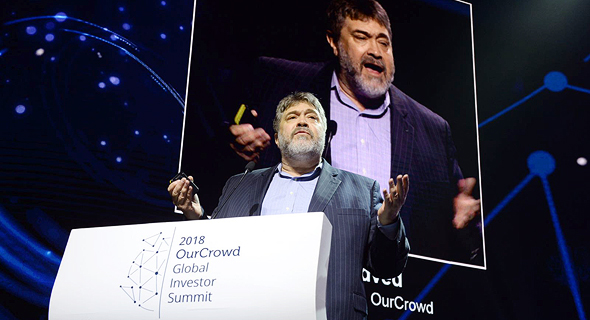 The 2020 OurCrowd Global Investor Summit caps a decade of growth in the Israeli tech ecosystem. During 2010-2019, annual investments in Israeli startups grew over 400% and annual exit value grew by 900%.
"As we start the new decade, we want to celebrate the incredible achievements of the Israeli tech ecosystem over the past 10 years, and OurCrowd's key part in this unbelievable story," OurCrowd CEO Jon Medved said at the summit. "But, looking forward, we want to take a long-term view and focus on what is needed to get where we want to be, 10 years from now. In order to continue this exponential growth, we will need to redouble our efforts in the seed and early-stage investment arena, as well as strengthen and leverage our growing network of global investors. Together we can make this next decade a truly Roaring Twenties," he said.
Over 23,000 people from 183 countries registered for the 2020 OurCrowd Global Investor Summit. The summit will host 231 speakers in 34 sessions and 2,000 face-to-face meetings between investors, multinational corporations, and entrepreneurs.
At the summit, OurCrowd will also present its predictions for the top 10 tech trends of the year ahead, reflecting the views of its investment team as well as input from its global network.
2020's leading tech trends, according to OurCrowd, will be as follows:
1. Lab-grown food will get tasty
2. Mind over matter: our brains will get wired
3. The race for autonomous driving will become a marathon
4. AI will beat Moore's law
5. If you're not scared of the dark, you should be
6. Productivity will leap ahead to discovery
7. Looking good means feeling good: computer vision will drive healthcare
8. Robots will play nicely together
9. Materials will become material
10. Schrödinger's catfight over quantum supremacy