The OurCrowd Global Investor Summit has become the place where the startup world gathers to "get business done." 
This year more than ever, there are numerous opportunities – some old, some new – to achieve your goals, whether it's sourcing innovation, connecting to the Israeli ecosystem, finding new prospects, or just establishing key relationships.  So, whether you're a budding entrepreneur, a CEO at a multinational corporation or an investor, this guide is for you, including some practical advice from long-time Summit attendees.  
Summit is no longer a one-day affair, but instead spans an entire week, filled with events specially curated to facilitate meeting new people in the industry. Summit Week events include academic masterclasses designed by NYU and OurCrowd for corporate executives and Fintech Week Tel Aviv, a conference that brings together players from a host of global FinTech hotspots.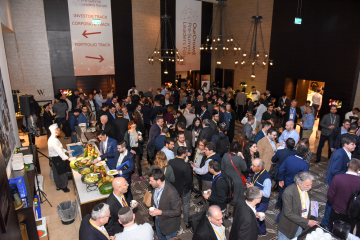 On Summit Day alone we have:  
The VC lunch

 

–

 

If you're a venture capitalist this 

invite-only event 

is your chance to spend quality time in an intimate setting with others in your field

, 

over

 some delicious food. 

 
OurCrowd 

Business Hub 

–

 

Including 

meeting rooms, workshops, facilitated networking, investment opportunities and masterclasses too

,

 this 

area

 is specifically designated to get business done without distraction

 from the rest of the

 Summit Day 

events

.

 

 
Hundreds 

of

Pre-Scheduled meetings

 – In addition to the thousands of spontaneous meetings happening during Summit Week, we have a dedicated

 

online 

networking 

platform

 

to allow Summit attendees

 to pre-arrange business meetings to ensure everyone is getting the most from their time at Summit

.

 
"It would take us years to be able to accomplish what we've done in a very short period of time, purely because of the strength and insight of OurCrowd."

– AmTrust Financial
Breakout

 

s

essions

 

on specific tech industry sectors allowing you to meet like-minded people and hear from leaders in the fields that interest you

. From 

The Long and Winding Road: Making Autonomous Driving a Reality

 

to 

Innovating the Fountain of Youth: How HealthTech Is Revolutionizing Life Itself

 

you can be sure that your 

interests

 are covered during Summit Week

.
The 

amazing content

 is 

carefully created and designed to spread across sectors allowing you to meet and mingle with people 

who

se

 interests align with your own. OurCrowd Crowd Business School: Master Classes for Entrepreneurs will help attendees gain a working knowledge of business practices essential to your building your company and give you the platform to network with the professionals you want to meet. 
Booths and exhibiti

ons 

showcase a wide range of 

industry 

sectors and 

cover the entire globe, facilitating conversations that you didn't know you wanted to have until the happen. 
"Smart people, smart entrepreneurs, smart investors, and smart corporates. Get together, create something new, change the world."

– Nick Sugimoto, CEO, Honda Innovations
Summit After Dark

 –

Getting deals done, 

doing business and 

meeting the who's who of the ecosystem

 doesn't end with the days end. 

Join us 

f

or our Summit Nightlife events including Tuesday night of Summit Week in Tel Aviv and Wednesday night at the First Station in Jerusalem. 

Our flagship nightlife event,

 

ShukTech

 allows you to let your hair down

 on Thursday night after Summit Day

 in the heart of Jerusalem's cultural 

c

ity 

c

enter

 market, grab a drink, relax and meet the people who really matter to your business goals.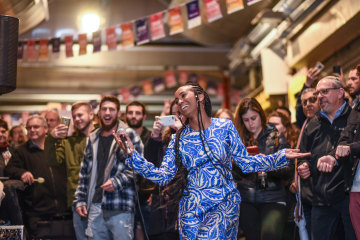 Dedicated meeting rooms

 

–

 

These range from public networking rooms to investor meeting rooms and include special areas for corporate partners and sponsors too

, ensuring that despite the crowds and endless networking you still really can get business done during Summit Week. 
"We're focused on the global networking opportunities with the OurCrowd relationship. There's so much potential, a real sense of community."

– National Australia Bank
Social media networking

 

–

 

This spans

 

four

 

platforms

 

and is filled with ideas, announcements and news

. Join the conversation with

 

@

OurCrowd

 

by using the

 

#

OurCrowdSummit

 

 
Food all day!

 

The coffee and famous Summit waffles are on offer throughout the

 

duration of the

 

conference allowing

 

for natural

, ongoing

 

networking

.

 

 
For inquiries about the 2020 OurCrowd Global Investor Summit please contact your OurCrowd representative or email summit@ourcrowd.com.