Mobile World Congress (MWC) may have been cancelled but tech summits across Europe are ploughing ahead, despite ongoing concerns about the coronavirus.
Entrepreneurs announced a spinoff tech event in Barcelona called Tech Spirit within 24 hours of MWC being cancelled and there's plenty more to come.
In the coming weeks and months there are literally dozens of tech conferences being held across Europe. Too many to bore you with all of them now, but here's a quick sample of what's around the corner:
Latitude59 (Tallinn, Estonia)
Emerge (Minsk, Belarus)
AltFi Summit (London, UK)

EU-Startups Summit (Barcelona, Spain)

VivaTech (Paris, France)
TNW Conference (Amsterdam, Netherlands)
PIRATE Summit (Cologne, Germany)
Put simply, the organisers of other European tech events don't seem to be overly concerned about coronavirus.
The GSM Association, which organises Mobile World Congress, said it was "impossible" to run MWC 2020 as planned after BT, Facebook, LG, Nokia, Sony and Vodafone pulled out over coronavirus fears.
But smaller conferences with fewer large corporates don't seem to be affected.
One tech conference in Israel, which had 23,000 registered attendees, took place the day after MWC was officially cancelled. The so-called "OurCrowd Summit" hosted thousands of tech enthusiasts in Jerusalem last week, albeit without hundreds of Chinese ticket holders who were unable to travel.
"We want to send a shout out to all our friends in China and Asia," said tech investor Jon Medved, the chief executive and founder of OurCrowd. "Our thoughts are with you. Be strong and be of courage. We are in this fight together."
Medved, a former mobile software entrepreneur, said he is disturbed by what's happened with MWC and stressed that it only made the OurCrowd Summit even more important.
He added that Israel is well versed in dealing with life-threatening issues. "If it's not the virus it's Iranian missile threats or some terror," he said. "We're used to this."
Jon Medved, the founder and chief executive of OurCrowd
Founded in 2013, one of OurCrowd's big wins is meat-substitute startup Beyond Meat, which has seen its valuation soar to around $7bn since its flotation in 2019. Other successful bets include bike and scooter-sharing startup JUMP, which was acquired by Uber for a reported $200m. Last year, Pitchbook found that OurCrowd was Israel's most active venture investor, backing some 38 companies.
Over 23,000 people from 183 countries registered to attend the one-day OurCrowd Summit this year. That included at least 200 people from China.
Chinese ticket holders that were unable to attend as a result of the virus were invited to watch the conference via a live video stream and Medved told Sifted he was contemplating some dedicated follow-up events for the Chinese attendees once it was safe to travel.
Global health emergency
OurCrowd, which has a crowdfunding platform that allows accredited investors to take equity stakes in startups they vet, has backed 212 companies, including several that are working on solutions to the coronavirus.
MeMed Diagnostics, for example, has designed an instant test that determines whether an infection is bacterial or viral. The company has also been backed by the US Department of Defense and a Chinese investor.
Elsewhere, Sight Diagnostics, known in Israel as the anti-Theranos, sells a device approved by the Food and Drug Administration (FDA) that does full blood diagnosis from a few drops of blood. It's small and portable enough to be used in isolated, quarantined areas.
The coronavirus was declared a global health emergency by the World Health Organisation (WHO) at the end of January.
In addition to the missing attendees from China, a number of other ticket holders for the OurCrowd Summit from Japan, Korea and Singapore also chose not to travel to the event.
However, Hironori Yamashita and Yoshiharu Hamashima, two communications professionals from Japanese telecommunications giant NTT, told Sifted that they weighed up the risk and decided it was safe to attend. They said they wore masks on the flight over to Israel and washed their hands regularly.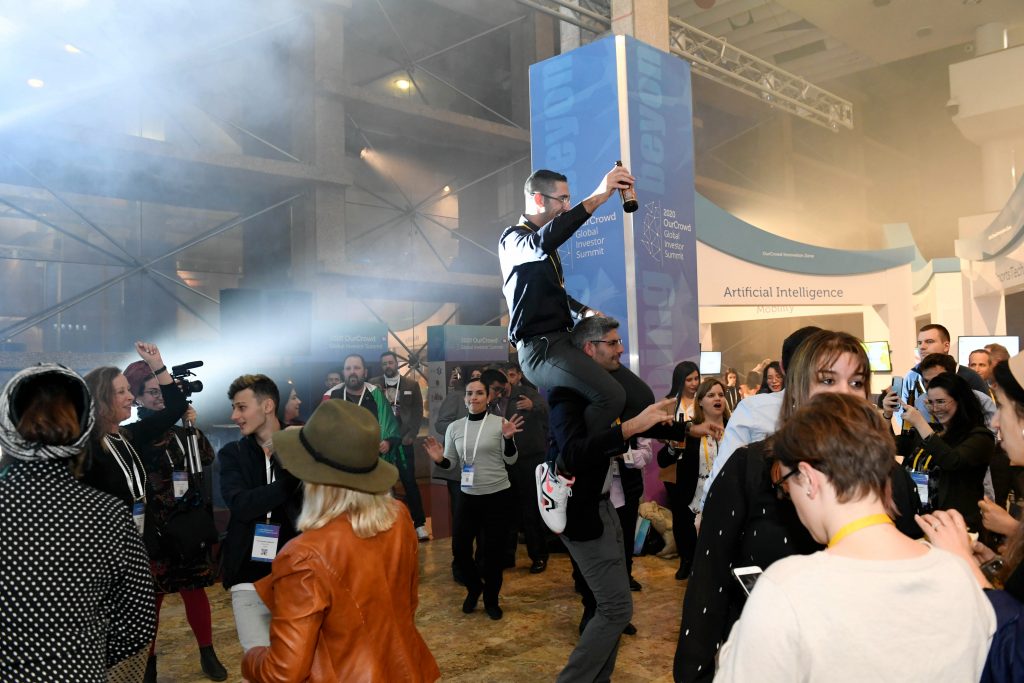 Israeli startups and Chinese capital
The absence of Chinese investors at the OurCrowd Summit could prove to be a big blow to Israeli startups, who increasingly rely on Chinese capital to grow their companies.
This year, founders of tech startups in hubs like Tel Aviv and Jerusalem didn't get the opportunity to try and woo deep-pocketed Chinese venture capitalists and angels.
Nitzan Beck, director of marketing at Israeli drone startup Airobotics, which has raised money from Chinese investors, said the fact the Chinese weren't able to attend was a "bit of a bummer".